The Jaffe Briefing - December 6, 2017
The Jaffe Briefing - December 6, 2017
OUR TAKE ON THE NEWS IN NEW JERSEY
HAMILTON - Tis the season for....gang warfare? The magic of the holidays served as ground zero for potential gang fights in this suburban town, with police breaking it all up on Friday at the annual tree lighting in Kuser Park, NJ 101.5reports. Cops also said two teenage girls reported being assaulted and there was talk of a handgun. The Trentonian says there were up to 25 kids ready to fight, but the Hamilton cops were tipped off. Amazing to see teenaged gangs in the suburbs, where there is apparently plenty of strife over a malfunctioning Xbox.
MONTCLAIR - Local residents are having a cow
 after a local ice cream shop unveiled its new logo - a hyper-sexualized female cow. The shop, Dairy Air Ice Cream Co., ran into some resistance from demure merchants who have asked Dairy Air to cover up their wares. The owners, according to 
NJ.com,
 have agreed to reconsider their branding, but will still sell such fan favorites as "Backside Banana Split," "Keister Key Lime" and "Coconut, Peanut Butt'r Booty." 
ON THE RAILS - NJ Transit's woes are well documented, but the agency apparently isn't talking to state legislators about how the busiest commuter service in the country fell into a safety and financial crisis. Bloomberg reports that NJ Transit has suppressed internal documents subpoenaed by the legislature, which perhaps show deeper institutional problems. On the campaign trail, Phil Murphy expressed frustration with the state's mass transit system, saying "You'd think if you got one thing right it'd be commuter rail." Meanwhile, there were two-hour delays over the GWB this morning, underscoring, yet again, the importance of NJ Transit getting it right.
WEEHAWKEN - In a move that would make Tony Soprano proud, the family of a convicted mobster has reaped more than $6 million in a land dispute with New Jersey Transit. There was this tiny issue with two acres of property near the Lincoln Tunnel, targeted for the rail tunnel project that Gov. Chris Christie famously cancelled in 2010. NJ Transit initially offered the family of Carmine "Papa Smurf" Franco about $934,000 for the property, and then $1.65 million. But after the family found those offers somewhat humorous, and decided that NJ Transit needed a realty check, they went to court, securing $8 million for all the little smurfs. The appellate court overturned that. But after a little bada-bing, the total number is now $6.13 million, NJ.com reports. Not a bad haul for those in the waste-hauling business.
NEWARK - No doubt you need a tough guy to be mayor of this city.
 Yet 
TAPInto Newark
 is questioning why Mayor Ras Baraka needs 27 cops to be part of his "Executive Protection Unit." The unit racked up more than $1 million between January 1 and August 25, which 
TAPInto Newark
 discovered by filing OPRA requests. Records show the 27-member security unit includes 24 police officers, one police captain, one police lieutenant and one police sergeant, all earning a six-figure base salaries as city cops and overtime payments totaling $1.1 million.  
Good to see strong street reporting in the Brick City.
IN OTHER IMPORTANT NEWS
GLOUCESTER, Mass. - Local fishermen take their fishing very seriously, and have little sympathy for anyone who dares to fish out of season. So perhaps that is why a 40-year-old fishermen who dared to catch a whopping 400-pound tuna decided it best to drag its headless carcass into the woods, the Gloucester Daily Times reports. There's video of the guy hauling in the Bluefin on Oct. 20, 15 days after fishing season closed. Nine days later, workers used a tow truck to haul that same fish out of the woods. The fishermen pleaded "not guilty" to all this; his explanation should make for a fascinating fish story.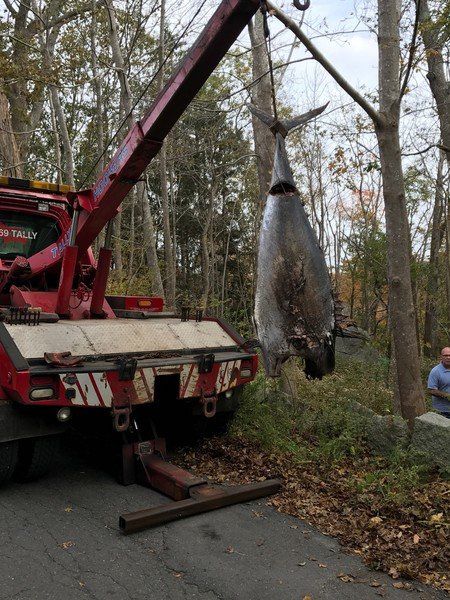 THIS DAY IN HISTORY
A very happy birthday to The Washington Post, which published its first issue on this day in 1877.
WORD OF THE DAY
Palmy - [PAH-mee] - adjective
Definition: Glorious, prosperous or flourishing
Example: It's the most palmy time of year!
WEATHER IN A WORD
Shifting
Posted in Morning Briefing